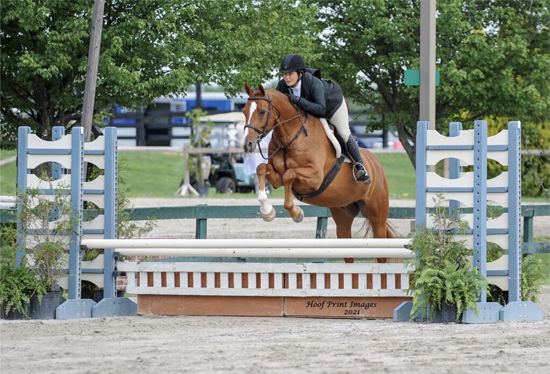 The Central Pennsylvania Junior Horse Show Association, commonly known as the CPJHSA, is a Hunter/Jumper based organization that recognizes USEF rated horse shows held in Pennsylvania and Maryland, and our mission is to create an environment conducive to the fostering, growth, and education of our members through these horse shows. The association was founded in 1954 by a group of local horsemen who wanted to start a series of shows for "junior riders only." Originally, there were 8 shows held from Philadelphia to Chambersburg, Pennsylvania. Over the years, the CPJHSA has grown to over 70 shows per year, with expansion into Maryland, and it is one of the goals of this organization to continue to promote, for the benefit of our membership, quality, recognized horse shows throughout Pennsylvania and Maryland.
In the early days of the CPJHSA, equitation classes were a highlight at horse shows. One young lady, named Josey Mohler, was leading in her equitation class standings when she was tragically killed. The rider in 2nd place did not compete for the remainder of the year so Miss Mohler could remain champion for the year. Following that year, the CPJHSA Board of Directors donated a trophy in Miss Mohler's honor, The Josey Mohler Equitation Trophy, which was first awarded to Beverly Bedard in 1959. This trophy is still a coveted trophy by the association's junior riders today.
The CPJHSA equitation classes, along with being awarded high point year-end trophies, have also evolved into a year-end "finals" competition. These finals have continued to grow in popularity and provide a goal for young equitation riders, and in 2010, for our Adult riders as well. The Finals are currently held at the annual CPJHSA Benefit Horse Show.
The association's riders, from lead line to adult, are recognized for their year-long accomplishments at the annual CPJHSA Awards Banquet. Along with this recognition, the association also recognizes our junior riders with academic scholarships and a yearly sportsmanship award. Furthermore, the CPJHSA encourages education and supports an annual clinic showcasing top trainers in the horse world today.
The CPJHSA continues to be the starting point for many young and upcoming riders over the years as is evident by the number of well-known riders and trainers who had their start with CPJHSA: Maxine Best (Greg Best's mother), Jennifer Alfano, Karen Healy, and Louise Serio were early members, and their names are engraved on many year-end trophies. It is through the association's legacy and commitment that the future goals and dreams of its riders can continue to be realized in years to come.